...CXO Summit to discuss the current and future state of their industry. According to Chris Hyatt, COO of Emeritus Senior Living, Technology is going to play a huge role over the next few years, especially as it relates to a demand for better customer experience and quicker turnaround in communication with residents and family members. 1
Demand for Technology
The attendees at the conference recognized the fact that technology is going to be a major factor for the decision-making children who ultimately choose a senior living community for their parents. 2
"Technology is going to play a huge role over the next few years..."
This demand probably stems from the fact that we now live in an age of instant information and instant access, while also being separated from family members by long distances. Children want assurance that they are going to be able to get in touch with their parents wherever they live.
The key to meeting this demand is going to be in the technologies that communities offer to the residents to use. Creating a website where children can view activities schedules or select meals is nice, but it wont satisfy the childrens desire to actually check in with their parents.
Imagine being able to offer families the ability to talk with and see their loved ones every night. Imagine the peace of mind that would give to both the parent and child.
Meeting the Demand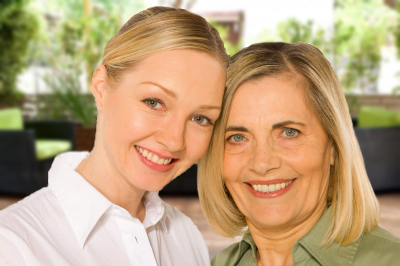 Meeting this need is possible, but actually doing so is going to take more than putting a few old, complicated Windows PCs in a room and hoping residents will know how to use them. Why not make a little investment in technology that is not only safe and easy to use, but actually designed for seniors, to help them stay in touch with their families and the world?
Telikin is a solution for communities who want to provide residents with an easy way to communicate with their loved ones and explore their interests. With simple, one touch access to email, video chat, web, games, and more, the Telikin computer puts easy communication right at residents fingertips. Children will love the fact that with video chat they can actually see for themselves how their parent is doing. And since many seniors believe that connections with their friends and family are the most important aspect to maintaining a high quality of life as they age3, your residents will appreciate the new communication tools you provide for them.
So why not add computer technology to differentiate your community from your competition? Learn more about Telikin for Communities and see why many communities are offering Telikin computers for their residents.
1 & 2. Olivia, Jason. Technology Will be the Biggest Driver for Senior Living Repositioning. 23 January 2014. www.seniorhousingnews.com.3. Suhay, Lisa. The aging survey 2013: Technology is a big hit with Grandma and Grandpa. 31 July 2013. www.csmonitor.com.
Photo courtesy of "Ambro" and "stockphoto" on FreeDigitalPictures.net.