One of those customers is Pam Leichtweis. We love speaking with her because not only is she an incredibly warm and friendly person, but her story represents the story of so many Telikin customers.
Pam, whos now 53, was a swimming instructor and never had to use a computer. It just wasnt something that came up in her life. During a stay at United Hebrew in New Rochelle, NY for rehabilitation, she heard about the computer course that Jean Coppola, PhD, Professor of Gerontechnology at Pace University, teaches. In this course, PACE University students get paired up with senior citizens and help them learn how to use technology, the internet, and the computer. Coppola, who saw the benefits of Telikin for seniors, has incorporated Telikin into her program. Pam decided to enroll in Copollas class and start learning about the computer to see what [she] could do with it.
Learning the computer, like learning any new skill, can take a little bit of help and a little bit of practice. Pam explained how one of her peers, a 98 year old woman who Pam described as awesome, who was learning the computer for the first time, would say to her student teacher, Instead of you typing it out, let me type it out! This kind of excitement about using the computer begins to show in seniors and first time users once they get the chance to use a product thats right for them. We hear this kind of excitement in our customers every day.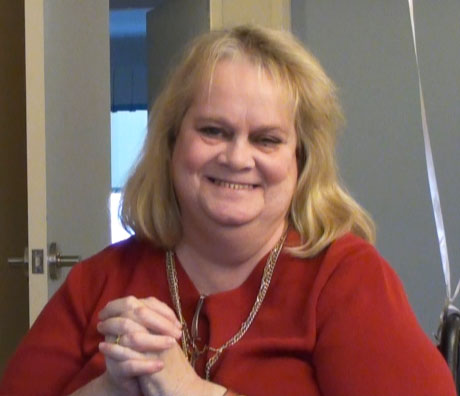 Because she was taking the PACE course and had a student helping her learn, Pam was able to not only learn how to use the computer, but learned new, fun things to do online. I got all the way up to Twitter! she excitedly told me. Now, her favorite thing to do on the Telikin is play games. She also enjoys viewing pictures (she says its easy to download pictures when people email them to her), and videochat.
Furthermore, one of the great things about the Telikin for Pam is that the computer is touchscreen. She has a bad right hand and cant move two of her fingers, so using a keyboard would be difficult. I find it very easy to use the touchscreen, [its] much better than using a keyboard.
Although shes no longer taking the course at PACE, she still keeps in touch with Professor Coppola and her student teachers from the program. And on Facebook, shes got a lot of friends, which she says, is a great thing to have.
She advises anyone whos thinking about getting a computer to definitely call Telikin and ask about the computer. Shell tell them to just get into the computer because you can talk to your families and do other things and talk on Twitter[and] use a touch screen computer to find out about things around the world and things you like.
When speaking with Pam, you can hear the excitement about Telikin, I would just like to thank Telikin for this experience, and all their workers and employeesfor helping me get this computer. I really love it. Id just like to say thanks.
All of us at Telikin want to say thank you to Pam for sharing her story with us, and to all our customers for making what we do worthwhile on a daily basis.