I recently came across an article in the New York Times discussing loneliness in seniors. The article, written by Elizabeth H. Pope back in September cited, among others, a study, "Loneliness in Older Persons: A Predictor of Functional Decline and Death" led by Dr. Carla M. Perissinotto at of the University of California San Francisco which was published this past July.
While the concept that close relationships can help improve a persons quality of life is not in itself earth shattering, Pope included some more interesting statistics and facts on loneliness, for example:
the majority, 62.5%, of lonely people (in the UCSF study) were married or living with othersan estimated 20% of the population is chronically lonely, while almost 40% of adults over age 65 are chronically lonelyother studies have found an association between chronic loneliness and other health risks such as high blood pressure, coronary heart disease, depression, and cognitive decline and dementia
These three points help us realize that as we age, regardless of whether or not our spouse is still with us or if were living with family, we must make a concerted effort to feel companionship and camaraderie with other human beings. Pope also notes this, quoting Dr. George E. Vaillant, a professor and psychiatrist at Harvard Medical School, In the same way you exercise, pay your taxes and eat a healthy diet, you need to start replacing friends as soon as you lose them, particularly around retirement age.
Maintaining and creating new relationships does not just happen; it takes effort, but as we become more geographical separated from family and friends, it becomes more challenging.
While many bemoan the fast-paced digital world, computers can actually be used to enhance, complement, and facilitate relationships.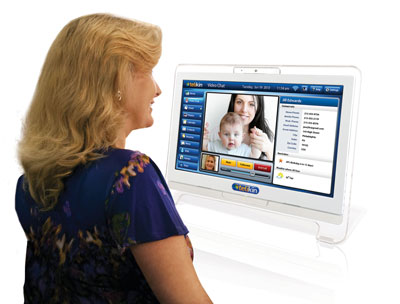 How so, you ask? Here are a few examples that, though fictional, exemplify many real-life situations in which people find themselves and how an easy to use computer can help:
1) A job transfer causes Greg and his family to move out of the state. Now, hes hundreds of miles away from his parents who begin to feel like they are missing out as Gregs kids, their grandchildren, grow up. Visits at summer vacation and Christmas are great, but not enough. Video Chat helps maintain the relationship during the long gaps between visits. The kids can now show off their missing tooth and new puppy to their grandparents, who do not feel so far away anymore.
2) After a fall while living on her own, Ethel, whos 84, moves in with her daughter. Though shes now living with someone she loves, her daughter has her own busy life, and Ethel begins to feels lonely. She uses the internet to research where in town she can play cards, and finds a group that meets twice a week at the fire hall down the street. At these gatherings, Ethel makes friends with her fellow card players and now looks forward to seeing them.
3) Al and his wife Sharon finally make the move into an independent living community after being retired for a few years. The environment is friendly, and they both make new friends. However, they still miss the people they saw regularly before moving. Al and Sharon exchange emails several times a week with their old friends to keep up with each others lives and to set plans to get together.
Computers do not replace personal relationships, but rather make them easier to maintain. In what ways are you using the computer and the internet to strengthen your relationships? Leave me a comment below to share your story!
To read the whole article by Elizabeth Pope on the New York Times website, click here.
To see the study from USFC, click here.