...a strategic business initiative with Sprint CapTel that will offer Sprint CapTels web-based telephone captioning service on Telikin, the easy-to-use, touchscreen computer designed with senior citizens in mind that is pre-loaded with popular and easy-to-use applications for computer use.
Sprint CapTel brings emerging technology to Telikin customers. Sprint WebCapTel, a web-based service, allows an individual to utilize a Telikin computer with an Internet connection and any landline or wireless telephone to receive captions of what another party is saying during a phone conversation.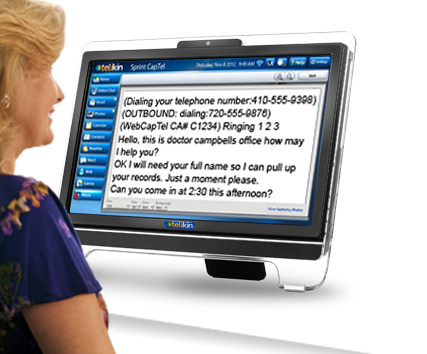 Telikin is committed to making technology accessible to seniors. Our partnership with Sprint CapTel is another opportunity to do so." said Fred Allegrezza, CEO of Venture 3 Systems, Inc., the manufacturers of Telikin computers.
This partnership between Telikin and Sprint enables a simple way for individuals with hearing loss to use our WebCapTel service on a system designed for seniors. The benefits are many for a growing part of the population who need this type of service, said Mike Ellis, National Director of Sprint Relay.
The Census Bureau reports there are more than 46.5 million consumers over the age of 60, and the baby boomer generation, those now 44 to 62 years of age, constitute approximately 25% (76 Million) of the total US population. By the end of this year, people age 50 and older in the United States will number 100 million people. As of April 2012, according to the most recent Pew Internet study, 53% of Americans over the age of 65 use the internet or email. This demographic, though still the least likely to be on the internet, is growing very quickly.
More than 33 million people in the U.S. experience hearing loss. In fact, hearing loss is one of the most common conditions affecting older adults. One-in-three people over the age of sixty and 50% of those over eighty-five report increased difficulty in hearing.
About Telikin
Telikin is designed and developed by Venture 3 Systems, located in Chalfont, PA. Telikin is the easiest to use, touch screen computer that integrates popular features such as video chat, photo sharing, email, contacts, news, weather, documents and a full Web browser in a sleek, simple system. Minus the viruses, pop-ups and additional cost and number of applications required to operate current computers, the large monitor, intuitive user interface and easy menu of popular functions helps people stay connected with family, friends and the world. Find out more at www.telikin.com or contact Nancy Allegrezza, Director of Marketing, 267-954-0102. You can also follow Telikin Computer on Twitter, and find updates on the Telikin Facebook Page.
About Sprint CapTel
CapTel is a registered trademark of Ultratec, Inc. In partnership with Ultratec, CapTel services are available as a component of Sprints array of Relay services. Sprint Relay is the largest and most technologically advanced Telecommunications Relay Service provider in the nation with more than 20 years of experience in providing relay services to persons who are deaf, hard-of-hearing or deaf-blind or have a speech disability to communicate with hearing persons on the phone. Sprints experience in this field assures users receive quality service regardless of the type of service they are using. Service is available 24 hours a day, 365 days a year, with no restrictions on the length of the call or the number of calls placed. For more information, visit www.sprintcaptel.com or www.facebook.com/sprintrelay.
About Sprint Nextel
Sprint Nextel offers a comprehensive range of wireless and wireline communications services bringing the freedom of mobility to consumers, businesses and government users. Sprint Nextel served nearly 56 million customers at the end of the third quarter of 2012 and is widely recognized for developing, engineering and deploying innovative technologies, including the first wireless 4G service from a national carrier in the United States; offering industry-leading mobile data services, leading prepaid brands including Virgin Mobile USA, Boost Mobile, and Assurance Wireless; instant national and international push-to-talk capabilities; and a global Tier 1 Internet backbone. The American Customer Satisfaction Index rated Sprint No. 1 among all national carriers in customer satisfaction and most improved, across all 47 industries, during the last four years. Newsweek ranked Sprint No. 3 in both its 2011 and 2012 Green Rankings, listing it as one of the nations greenest companies, the highest of any telecommunications company. You can learn more and visit Sprint at www.sprint.com or www.facebook.com/sprint