It is not unusual to overhear a conversation like this one here at Telikin. Every day, our Support Team Members help customers get comfortable with their Telikin computer and show them how it can help them do the things they want to do.
Computers and the internet present countless opportunities for seniors to stay active and independent by letting them do things like online grocery shopping and banking, researching hobbies, and emailing with friends and family.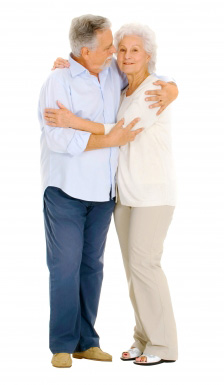 And now, more and more seniors are logging on to find love.
According to the US Census Bureau, of those age 60 or older in the US, 21.6% are widowed, 13.5% are divorced, 5.6% never married, and 1.5% are separated. This means that 42.2% of people age 60+ are single thats almost 25 million people!
Simply because these 25 million singles have reached a particular age mark in their life does not mean they are dismissed from the dating scene. People of all ages desire companionship and romantic love. Singles in the 60+ demographic are flocking to online dating sites. The largest sites, such as Match.com and eHarmony.com, while not specifically for seniors, have thousands of seniors creating profiles and browsing matches. There are also a number of websites specifically for those in the later season of life such as How About We and Our Time. Telikin Support Team members often get questions about these sites and how to navigate them because people are interested in finding friends and companionship.
Online dating is just another example of how computers and the internet empower seniors. And this is something we strive for here at Telikin giving people opportunities that were previously unavailable to them to help them live fulfilling lives.
So, this Valentines Day, why not consider giving someone the gift of love, or rather, the opportunity to find love? If you know someone who is frustrated by computers or even too afraid to touch one, consider how they might benefit from an easier to use computer that will let them connect with others. Then you could introduce them to the online dating world, help them create a profile and browse matches. When it comes time for the first date though, perhaps you better leave that one up to them ;)
Images courtesy of Ambro at FreeDigitalPhotos.net