...taught us life lessons, and made us a little wiser.
For Grandparents Day, and every other day of the year, here are 5 ways to show your grandparents you care.
1) Sit down and talk with them
There are so many channels of communication available to stay in touch with people. Well use text, Facebook, Skype, email, and (sometimes) the phone. These are all great methods to stay connected, but nothing and I repeat nothing can replace the value of a face to face conversation. Sometimes, grandchildren may find it hard to connect with a grandparents, whether its because of a generational gap or the means of communication, but that doesnt mean they shouldnt make the effort.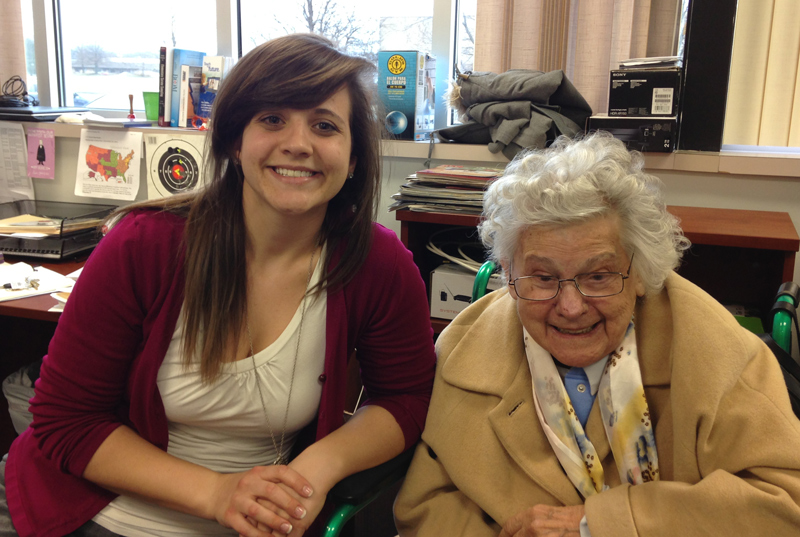 My grandmother had a stroke at the age of 40 that severely affected her ability to speak. She often knows what she wants to say in her brain but has difficulty getting out the words. When I want to show that I really care about her, I sit down next to her and give her the time to get out what she wants to say. This can take a little bit of patience, however, at the moment when I do get what shes saying, the expression on her face says it all shes so happy that I understood what she wanted me to know!
2) Join in one of their favorite hobbies
You may not love model trains, but maybe your grandfather does. Why not accompany him to the model train shop? Ask him questions such as what are his favorite kinds of trains, why he got into collecting model trains, or what kinds of trips hes taken on a train.
Does your grandmother love music? Ask her who her favorite artists are and then pull up some of their songs online. As you listen to the music ask her if the songs remind her of a specific memory. You might get a surprising story like learning what song your grandmother and grandfather had their first kiss to!
3) Give them the gift of one of your talents
My family has been blessed with a lot of musical talent, and during family get togethers, its not uncommon for us to bring out our instruments and play. Recently, on family vacation my cousins and I got a few guitars and sang songs together as my grandmother watched and listen. Her smile just grew and grew as she watched her grandkids showing off their talent.
Perhaps you love cooking? Prepare a meal thats easy to transport and bring it over to your grandparents, and then sit down and eat with them. Not only are you sharing your gift, but youre sharing your time.
4) Go through old photos with them
Today, people live in pictures. Theyre posting new shots of their friends, their babies, their food every hour of every day. Looking at old photos is a great way to reminisce. Its also fun to look at pictures before we had the ability to take 73 shots before getting the picture juuuuuust right. If your grandparents have a lot of prints, why not offer to go through the pictures and organize them. You could also offer to scan the photos so your grandparents have digital copies. As you browse through the pictures together, ask some questions about when and where they were taken and whos in them - you might realize that you look exactly like your great-great-uncle!
5) Use technology to connect with them
But what about if your grandparents live far away? What if you cant just hop over for dinner one night?
Technology can help you there! When getting together in person just isnt an option, video chat is the next best thing! Through a video chat, your grandparents will be able to hear your voice and see your face a more personal experience that they will appreciate.
While one of my grandmothers lives close by, my other set of grandparents live far away. Talking on the phone just wasnt something we did often. Two years ago, they got a Telikin computer. Now, my grandfather LOVES video chatting. Almost every other night, I hear the computer ringing with a video chat call from him. Its great that I can see his face and catch up with him.
What are some ways that you celebrate Grandparents Day? Leave me a comment below!
In the picture above, my grandmother, Lillian, comes to visit me at work!